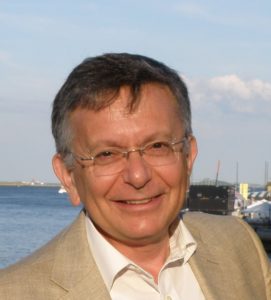 Rabbi Boaz David Heilman
Born in Israel in 1949, Rabbi Heilman moved to the United States with his family in 1961. Trained in classical music and learning piano from an early age, he studied at UCLA and SMU, earning a Bachelor of Music and an Artist Diploma in piano performance from SMU in 1971 and 1973, respectively. In 1973, Rabbi Heilman rejoined his family in Israel. Between 1973 and 1977 he concertized in Israel and abroad and made several recordings for the Israel Broadcasting Authority. During that period he also fulfilled his military duty, serving as a medic in the Israel Defense Force.
Rabbi Heilman returned to the United States in 1977 to continue his music studies. He received a Master of Music degree from the University of Cincinnati in 1979. In 1980, he married Sally Finestone, then a rabbinic student at Hebrew Union College. Rabbi Heilman's and Rabbi Finestone have two children, Hannah and Jonathan. 
Rabbi Heilman was accepted into the rabbinic program at Hebrew Union College-Jewish Institute of Religion in New York City in 1995. In 1997 he received his Master of Arts in Hebrew Literature and was ordained as Rabbi in 1998.
From 1995-2015, Rabbi Heilman served as Rabbi at Congregation B'nai Torah in Sudbury, MA.
Between 2015 and 2019 he served as the rabbi of Temple B'nai Israel in Laconia, NH.
Rabbi Heilman still plays the piano (though not much in public any more). He enjoys photography and hiking. He is the author of several Purim spiels and has written divrei Torah (commentaries) on every portion in the Torah, all published in his blog, https://parshahnote.blogspot.com. A frequent visitor to Israel (where he still has family), Rabbi Heilman has contributed op-ed pieces and observations on the social, political and security situation in Israel and the Mid-East. 
Story Courtesy of:
Hal Slifer | Creative Director
hal@biographystories.com
www.biographystories.com
617-965-2244