In the 6th and 7th grade class, we prepare our students for their rite of passage into Jewish adulthood. Bar/Bat Mitzvah is an opportunity to show the community that they are prepared to be more responsible for their actions. We consider our students in the 6th and 7th grade class 'Jewish adults in training.' In this class they learn what it means to be an adult in the Jewish community: active participation and contribution; helping others in need; and Torah study. We stress individual responsibility, being contributing members of the community, and becoming active learners. We also emphasize community: doing class mitzvah projects and helping out at each other's Bar/Bat Mitzvah ceremonies.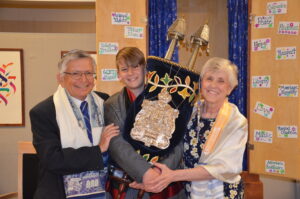 Topics of discussion in B'nai Mitzvah Class:
v 

Prayer and the Prayerbook

v 

Rites of passage

v 

Major prayers in the Shabbat service

v 

Orthodox, Conservative, Reform, Reconstructionist Judaism

v 

Hebrew

v 

Jewish history

v 

Living as a Jew in a "Non-Jewish" world

v 

The three sections of the Tanakh and what is in them

v 

Torah study (we will study a weekly Torah portion several times during the year)

v 

Tzedakah and Mitzvot
---
Example mitzvah projects: 
Every year during Sukkot the class builds the CBT Sukkah in the courtyard. We carry the materials outside, steady the poles and boards, and help the younger students decorate the Sukkah with fruit, vegetables and artwork. One year it was so windy that the Sukkah kept blowing over. We finally got it to stay standing.

Every three months a group of homeless families stays at our building as part of the Interfaith Hospitality Network. Congregants take turns preparing meals and staying with the families. This year our class made dinner for the families. We voted to make a taco bar with shells, meat, beans, lettuce, tomatoes, cheese, sour cream and salsa. Everyone brought something. We crammed into the kitchen and fixed the dinner, and then we ate with the families. They said it was the best dinner. Then some of the families helped us clean up.
We do not separate Hebrew from Jewish studies in the curriculum. They are expected to know the major prayers in the Shabbat Service in Hebrew, practicing them at home during the week and saying them from the bimah in front of the class several times per month. Most of the learning in the class is accomplished by discussion, debate, and group projects and activities.