Friday, September 29- No services
Sunday, October 1, 11am- Annual Bake & Craft Fair
Friday, October 6- Virtual Shabbat services @7pm
Friday, October 13- Family Shabbat services @6:30pm
Friday, October 20- Virtual Shabbat services @7pm
Friday, October 27- Shabbat services @7pm
Saturday, October 28- Adult education
Tuesday, October 31- Halloween
A little more about our special events…
2023 2nd Annual Bake & Craft Sale- Sunday, October 1 at 11am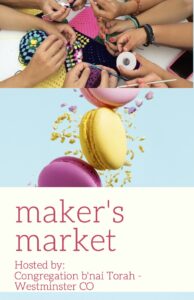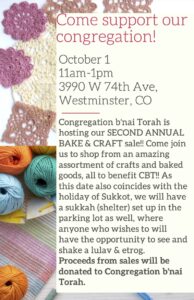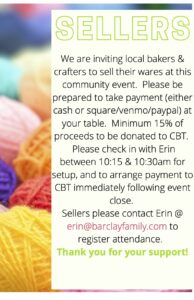 After the HUGE SUCCESS of last summer's inaugeral CBT Bake & Craft Sale, it's time to do it again!!  Congregation B'nai Torah will be hosting the 2023 BAKE & CRAFT sale on Sunday, October 1 from 11AM-1PM.  Come join us to shop from craft or baked goods, all to benefit CBT!  This event will be held outside, so we hope to see members and guests, along with any guests we may see from the church or from the surrounding neighborhood.  This will also be an opportunity for members and guests to visit CBT's Sukkah, as our sale coincides with the holiday of Sukkot!  Sale proceeds will be donated to Congregation B'nai Torah.  We are looking for volunteers to bring this event to life!
Whether or not you are able to volunteer, we are still looking for all our members to attend.  It will be a fun morning to relax, shop, and connect with members and other guests. Bring friends, family, neighbors……the more the merrier.
Looking forward to seeing you all there! 
All in person events are at CBT unless otherwise mentioned: 3990 W 74th Ave. Westminster, CO 80030